I was hired at this hostel as an "entertainer", essentially. We have four shifts: morning, afternoon, overnight, and cultural. The cultural shift person is the one who organizes "cultural" activities for the hostel guests and takes them out at night. We do this for several reasons:
Our hostel is currently ranked #3 in Barcelona on HostelWorld and we maintain that rating by offering a lot of perks, extras, and entertainment compared to the average hostel. The better our rating, the more we are able to charge for a bed, SO we have to make sure this hostel surpasses all expectations and tops any other hostel experience our guests have had, which it normally does (unless they've been to Lisbon). Barcelona hostels are different than your average hostel. Guests aren't just paying for a bed, they're paying for an experience.
We need an excuse to get the guests out of here at night because drunk people = noise, noise = complaints, complaints = police being called, too many complaints to the police = hostel shut down. No, I'm not exaggerating. My last hostel (Art City) got shut down while I was working there.
So, four nights a week I take the guests on a pub crawl -- 2 bars and a nightclub.
"Isn't this exhausting?"
Yes, of course. But my life could be a lot worse. I take people out at night to have a good time. In Barcelona. My job description is to entertain and talk to people. I meet interesting people from all over the world. However, being a relatively expensive hostel means that we attract travelers who have money to spend -- mostly the incredibly young and entitled who haven't yet learned how to function and be a respectful human in the real world. I could elaborate, but I think you can imagine. So, I have to suppress my frustration and slap on a smile, even when Chad is yelling "Where are the free shots, sweetheart!?" for the sake of getting 5-star reviews.
"Why you look so sad, girrrrrl? Cheer up! Why aren't you drinking!? C'mon, live a little!!"
Well Brad, I do this four times a week. The same exact thing. You are on holiday. You have lots of spending money. This is new and exciting for you. I'm not sad, I'm drained. I don't want to drink heavily 4 nights a week. I realize it's your last night here. Last night was Steve's last night. The night before was Becky's last night. Do you understand now?
I get depleated by too much social stimulation and sometimes I'm just going through the motions without much enthusiasm. This is generally why workers only last about 3 months tops working this shift, and then switch to reception, or find a new work exchange job, or move along to another country.
It's definitely fun for awhile though. People think you're "super rad" for getting them into clubs for free and shots at bars. It feels good to be "super rad" sometimes. I also occassionally get groups of really cool people and I will drink and actually go inside the club with them at the end of the night. This is what makes it worth it -- the really great, fun, interesting people that make up for the lame ones.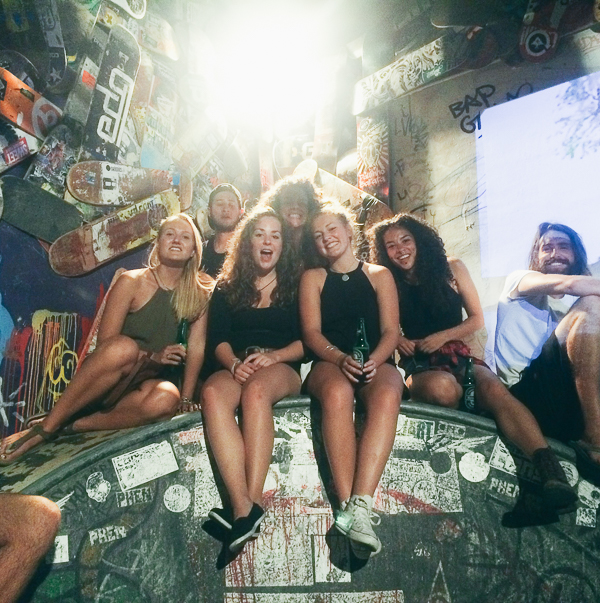 All these photos are ones I've had to take for the hostel Facebook page, and I'm always annoyed that I have to take them because the photographer in me hates taking dark, blurry snapshots in bars, but looking back I'm really glad I did. When compiling them together for this post, I admit I got a bit emotional over some of these people. I definitely had some moments with a few of them. People feel more comfortable opening up to someone they know they'll only be around for a limited amount of time, so I've heard their stories, cried with some, and gotten all too real with several.
I'll probably never see 99% of them again, I don't even have most of them on Facebok to keep in contact. Agghhhg... feelings.
If anyone knows the full names/Facebook info of anyone in these photos, could you let me know?
I'm not sure how much longer I'll last doing this job, but in the grand scheme of things, life isn't so bad and I really can't complain too much.